Stated (fake) reason: told sailors to "clap like we're at a strip club" - supposedly considered "inappropriate"
I'm not buying that for a moment. Not something I would say myself, but harmless in context and tamer than any PG TV show dialog produced for several decades. Spoken to sailors, not clergy. This will conveniently invite endless discussion of "did nothing wrong, Navy's turning sissy" versus "professional conduct, mixed company" to distract from whatever is the real reason he was targeted. Right now it's extremely popular to lie and do something for one reason while excusing it with another reason.
Which is ... ?
Background: There was a budget plan to avoid refueling the USS Harry S. Truman aircraft carrier in order to put the funds into other projects including newer carriers and Navy tech. That was controversial for many reasons - a law requiring 12 carriers, a big current strategy battle between "carriers are strong" and "carriers are easy targets" schools of thoughts, and the savings of retiring a carrier early versus the waste of an available platform. At the last minute Trump (in typical fashion) tweeted that it wouldn't be retired after all, also implying that the newer planned carriers wouldn't be affected either. Of course, Carter and his sailors were the ones on the carrier and naturally glad of the decision.
So what do you think is most likely, was Jonas Carter targeted by never-Trumpers, or because of disappointment over the budget plan, or another reason?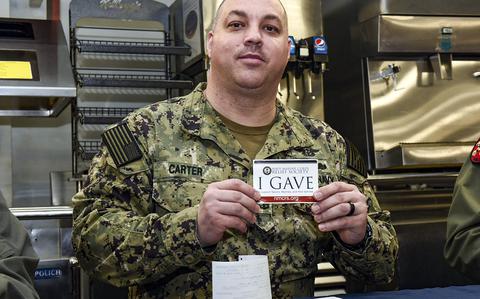 The command master chief of the USS Harry S. Truman, who late last month cajoled sailors to "clap like we're at a strip club" for Vice President Mike Pence's arrival aboard the aircraft carrier, is retiring, a Navy official said Tuesday.

www.stripes.com