Joined

Feb 7, 2007
Messages

2,798
Location
Greetings all. It's been a very long time and my sincere apologies for this late announcement.
Many of you old timers may remember Kevin Kilcoyne ( zoom6zoom), an avid Open Carrier and gun rights supporter. It's with the deepest sadness I'm informing you all of Kevin's passing this past December. I'm still in shock over this whole thing. Kevin and I hit it off immediately when we first met in 2006 at a VCDL meeeting and became best of friends, sharing our love of America, of guns and eventually of ham radio. I moved around a bit and we went our own ways and reconnected after I returned from a job in Egypt. We even got our Ham Radio licenses together on the same day in 2012 once I got back home.
Kevin's family lived in Massachusetts and we sort of adopted him. He was at our home for so many events, birthdays, anniversary's, cookouts, holidays, Christmases and Thanksgivings. He was a regular at our table and a part of our family. He was just here on Thanksgiving sharing our feast with all our family and he spent the night as he always did due to his bad night vision caused by his diabetes. I didn't know that when I drove him home the following Friday that it would be the last time I'd ever see him.
He never showed for my mom's 75th birthday party on Dec 14th and that was unusual. I couldn't reach him at all and tried all week to reach him, thinking perhaps he went to visit family. I stopped at his house after work Thursday Dec 19th and there was no answer and the house was dark but there was a package on his doorstep and that was unusual.
On Friday morning I called every hospital in the area checking to see if he was admitted, hoping he was at that point. When they all said no, I went over. Again, no answer and a neighbor said that package had been there for a couple weeks!! Seriously? That was it, I called PWC police for a welfare check. I reached out to his family to see if he might be there and when he wasn't, the police decided to enter the home. When the officer walked out, I knew. I found Kevin passed away peacefully asleep in his chair at the young age of 60. I stayed with him until the funeral home arrived and have been in very close contact with his family throughout.
I thought you all should know and apologize for the late posting. Kevin's obituary is posted below. God bless you all.
Farewell, my friend. You can finally lay down your arms and rest in peace.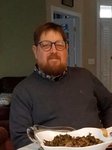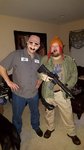 https://obituaries.eagletribune.com/obituary/kevin-kilcoyne-1078213025