Joined

Jul 1, 2014
Messages

36
Location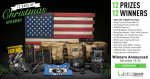 Contest Alert!
12 Days of Christmas Giveaway!
Gun Giveaways and Sweepstakes
Enter for your chance to win 1 of 12 exciting gifts (plus a bonus!) Allen has really outdone himself and wants to give you the best holiday yet! With 12 days of giveaways your chances of winning are even better than ever. Why would Allen do this? Because he loves the gift-giving holiday season and wants to bring the absolute best to his fans. What's included?
- Sccy Firearms CPX-2 9 mm Pistol
- Rough Country Rustic Furniture & Decor Concealment Wall Art
- Drago Gear 36" Double Gun Case
- Uzi Gear - Watches, Flashlights, Tactical Pens & More Tactical Knife and Pen Set
- Humvee Gear Recon Kit
- Smith and Wesson Gear Pepper Spray, & more Calibrator Watch
- RangeDay Apparel Co. Shirt, Hat & Patches
- UltraProX Adventure Cam Elite
- Mad Custom Coating Gift Card
- Bigfoot Gun Belts Gun Belt of your Choice
- Alien Gear Holsters Cloak MOD + 2 Docks
- Alien Gear Holsters 2 Holster Combo
+Bonus+ - FMG Publications 1 Year Magazine Subscription for EACH winner!
Starting on December 12, 2016 and running through December 23, 2016, Alien Gear Holsters will be giving one prize to one winner every.single.day! There are plenty ways to enter and plenty of prizes to win. Get in on the "12 Days of Christmas" Action with Alien Gear Holsters and friends! Happy Holidays!
Last day to enter the contest is December 22, 2016 at 11 :59 :59PM PST. Restrictions apply, see official rules for details.
Last edited by a moderator: